College has a number of prizes for it's students viz. "STUDENT OF THE YEAR" for all round activity of a student. Moreover students having best academic result in final university examination for Arts, Science and Commerce streams will also get prize. Besides that all the students who secure 60% marks in final university examination also get prize.
There are a number of free studentships, scholarships, book loan programs for our students. The details will be available in this page from time to time.
The students who secure 60% marks in C.U examination for 1st year or 2nd year get freeship in tuition fees for the subsequent year of study.
The College follows a student friendly procedure of providing financial assistance to students on the basis of their financial need, attendance and academic performance in last university examination. However the students of 1st year can avail of this opportunity on the basis of their H.S. result, Class Test performance and attendance.
The College intends to make this service more board-based in the days to come.
The list of students who obtained Concession of Tuition fees (Partial/Complete) for current academic session is available in student section of college office.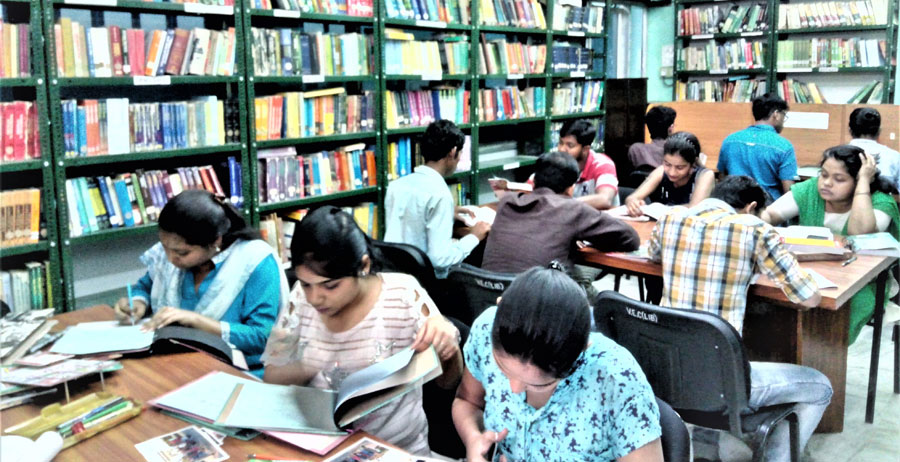 Stock
:
More than 28,000 Books, journals, Periodicals and non-Book materials.
Working Hours
:
12:00 Noon to 8:00 P.M. from Monday to friday and 2:00 P.M. to 8:00 P.M. on Saturday.
Loan Facilities
:
Library cards are issued to all bonafide Students.
Course
:
1st Year
2nd Year
3rd Year
Honours
:
3 vols. for 3 weeks
3 vols. for 3 weeks
4 vols. for 4 weeks
General
:
2 vols. for 3 weeks
2 vols. for 3 weeks
3 vols. for 3 weeks
Restrictions
:
Rare and Reference Books, Journals and periodicals are issued daily during the working hours and are not for home-issue.
Over due charge
:
@ Re 1.00 (Rupee One) is charged if the book (s) is/are returned after stipulated period, viz, three weeks in case of 1st & 2nd year class and four weeks in case of 3rd year class.
Caution
:
If any book(s) issued is/are lost or mutilated, the matter, at once, should be intimated to the Librarian and the borrower has to replace the book(s), if available. Otherwise the borrower has to pay an amount three times of the printed price.
Notice
:
(a) Each and every student shall have to take clearance certificate from the Librarian at the time of University Examination/ Re-admission/ Transfer etc.
(b) The Librarian may use his discretionary power with regard to issue/ return of book(s).
Daily Issue
:
(a) Journals and periodicals subscribed regularly, viz. Desh, Economic and Political Weekly, India Today, Parichay, Society and Change, Resonance, Kalyan Bharati, Employment News, Karma Khetro (Bengoli), Yojona (Eng. & Beng), Science Report etc are kept ready for daily issue.
(b) Books are issued to students willing to read in the Library reading room on all working days.
Special Facility
:
Students are issued books for Part-I and Part-II and Part-III University Examination on payment of special library deposit Rs. 500/- for Hons. for 3 (three) books & Rs. 300/- for General for 2 (two) books and the said deposit is refunde if books are returned within 10 (ten) days of the commencement of their university examination and if any student fails to comply the rules, 25% from his / her deposit will be deducted.
The Library has two computer terminals and students as well as staff members may access the Net or browse the database at Inflibnet. They may also access the online journals for the purpose of academic research.
The college has a canteen where the students can unwind themselves between busy schedule of classes over a cup of tea with snacks at a discounted price. It is pleasant place for them to interact on issues close to their heart and mind.
A dedicated Computer Laboratory for the College is present at the ground floor of the new building. The Laboratory is utilized for computer-related practical classes in such subjects as Geography, Mathematics, Physics and Commerce. The Language Competency Classes are also held at the Computer Laboratory since the classes are taken according to an Audio Visual teaching format and under a self-teaching module. The new building of the college is net worked with high speed internet, LAN facility and free Wi-Fi facility is available to all.
The College has network of computer facilities for various academic and administrative work. At present most of the departments have computers for academic and administrative uses. While making use of these facilities in the scheduled academic programmes of the college including teaching and research, they are also being utilised for building up and processing Library data base, for computerization of office work, and for offering orientation and satellite courses to willing students belonging to diverse academic disciplines.
The college has a cheap store to make course related books available to the students at an affordable price.
In recent times career counselling has emerged as a service of major importance to the student community. Accordingly the college has responded to this growing need by way of constituting a committee for disseminating career oriented information to the student. In the days to come this facility will be made more effective and accessible to the students by making use of the expertise of the professional in this field.
The College has a dedicated Health Centre 'Suswasthya' which provides free health check up services to the staff of the College every month. The College students may avail a host of medical services as well as OPD facilities (medicine, surgery, dental, skin, eye and ENT) for a nominal fee of Rs. 10/- from the Students' Health Home (under the ministry of Youth Affairs, Government of West Bengal), with which the College has a tie-up. The First-aid boxes are available at convenient places for use in emergency. Moreover the convenient location of the College makes all the major hospitals easily accessible.
A
Sanitary Napkin Incinerator
and a
Napkin Vending Machine
has been installed in the 1st floor Ladies toilet of the New Building. We believe that this facility will go a long way to improve the quality of female hygiene in the Campus. The Vending Machine is easy to operate and female members of the staff will be in charge of the stock available in the said machines. The incinerator will effectively diminish the problems of napkin disposal.
Sanitary Napkin Vending Machine
Sanitary Napkin Incinerator